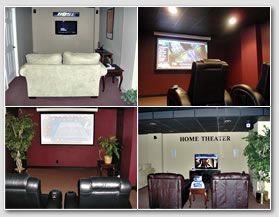 Skywatch Electronics, Delmarva's audio video company with a reputation for excellence, invites you to discover the satisfaction and thrill of a custom home entertainment system.
Skywatch has provided prompt, courteous and reliable service to the Delmarva community for over 20 years. Our staff of knowledgeable professionals can help you choose the right equipment for your home entertainment needs, and your budget. We use only quality brand name components, designed to give you the most authentic home entertainment experience. And we'll give you an installation that will not only be great to enjoy, but also easy to operate.
Whether you purchase just a single piece of equipment, such as a new high definition television, or a complete home theater package, or even a complex state-of-the-art multi-room audio video arrangement, we are committed to providing you with the same expert advice and quality service. Nothing matters more to us than maintaining the reputation we've built up for integrity and customer satisfaction.
Give us a call (302)877-0300 and let us help you design a home entertainment system your whole family will love for years to come.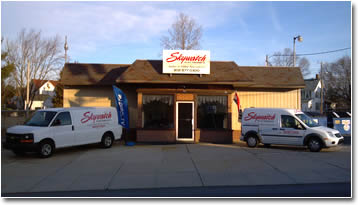 Skywatch Electronics
537 East 4th Street
Laurel, DE 19956
302.877.0300
800.787.3388
GPS address: 576 E Market St, Laurel, DE
info@skytronics.com