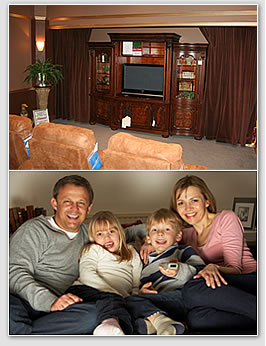 Home Theater -- C'mon, you know you'd love to have it.
* Thrilling true-to-life picture
* Exciting surround sound
* Complete control of the movie-watching experience
And, as a bonus, no one stumbling over you after the movie starts or chatting on a cell phone in the row behind.
But maybe you're hesitating because, well, you've got questions, like:
* What system do I get?
* Where do I put it?
* What's this all going to cost?
* Will the installation be a nightmare?
* Will I even be able to operate the thing after it's in?
That's where we come in.
Our home theater specialists offer expert in-home consultation. They will take you step-by-step through the whole home theater process, discussing all the options and making sure you feel comfortable with every choice you make.
Whether you're building a new home, remodeling a spare room, completing an unfinished basement, or simply upgrading your family room, our innovative home theater designs can adapt to any space and lifestyle. And at a price you can afford.
Then, when you've decided on what you want, we'll work closely with you to make sure that the installation is smooth and hassle-free. And we'll be happy to meet any special requests you might have, like hiding the wires and electronics, or positioning equipment to fit your decor.
After we finish an installation, we don't consider our job done until we know you're fully comfortable operating your new system. Before we leave, we'll take the time to instruct you on everything -- settings, speakers, remotes, whatever. And we'll be happy to answer any questions you might have. That's what we're there for.
We want you to be fully delighted with the way your system handles, looks and sounds. We'll give you all the guidance you need to get you there, and we'll even come back for follow-up visits to make sure that everything keeps performing just the way you want.
In short, we aren't satisfied until you are. We're committed to making sure your home theater experience exceeds your expectations.
We love home theater. We know it can be truly special. We'd love for you to have that special experience.
Contact us today and let us make it happen for you.